I shouldn't have to sell you on the fact that we here at Pulse Cola are the hugest of sports fans, and a lot of what we report comes from the information we get from ESPN. Today, it is with great sadness that we report that Stuart Scott has died at the age of 49.
Stuart Scott, longtime SportsCenter anchor and a pioneering force in the field of sportscasting, passed away Sunday morning after a long battle with cancer. He was 49. "ESPN and everyone in the sports world have lost a true friend and a uniquely inspirational figure in Stuart Scott," ESPN president John Skipper said. "His energetic and unwavering devotion to his family and to his work while fighting the battle of his life left us in awe, and he leaves a void that can never be replaced."
After joining ESPN2 in 1993, Scott quickly became one of the network's most respected and recognizable personalities. As the co-anchor of SportsCenter, where Scott formed a must-watch duo with both Rich Eisen and Steve Levy, Scott often spruced up sports highlight with phrases like "Booyah!" and "Cool as the other side of the pillow" that transcended the world of sports. As a sports journalist, Scott was also a major contributor to ESPN the Magazine, and often was selected to interview the biggest names from Michael Jordan to Barack Obama.
"RIP. It was a pleasure knowing you," Snoop Dogg said in an Instagram post and rapper Chuck D tweeted "Stu Scott's passing hit me like a ton of bricks. Rest in Peace bro you pioneered that coolest side of the sportscasting pillow."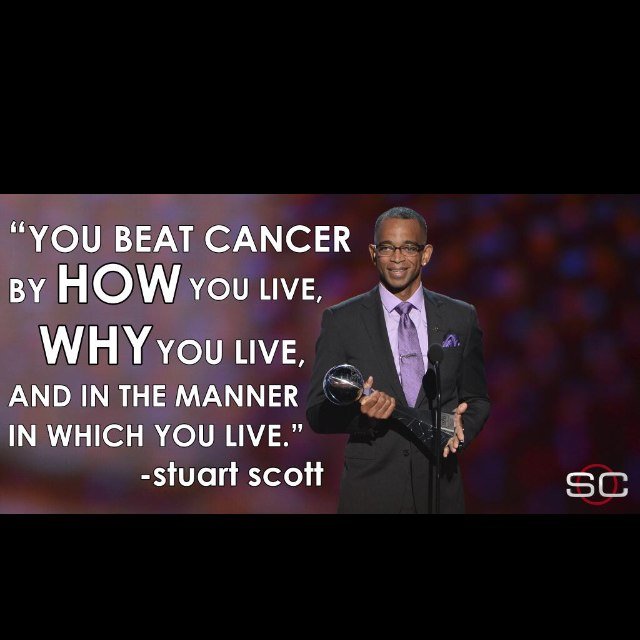 Scott was first diagnosed with a rare form of cancer in November 2007. In the years that followed, the cancer would fluctuate between remission and reemergence. In July 2014, when Scott was awarded the Jimmy V Perseverance Award at the 2014 ESPYs, he revealed that he had undergone four surgeries in the previous week.
Scott is survived by his two daughters, his longtime girlfriend Kristin Spodobalski and many friends and family members and of course his legion of fans. We will miss you Stuart. -EE